Amazing Raw Kale Salad!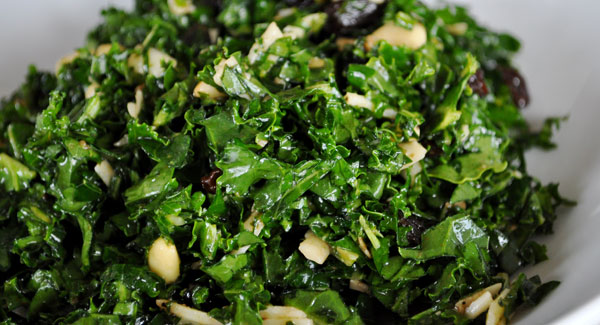 Makes 4 servings
8 ounces  kale, washed, dried, de-ribbed and roughly chopped
2 tablespoons pine nuts, toasted ** Any nut works
Parmesan shavings, or Cranberry Ridge Farm Cheese to taste
2 tablespoons olive oil
3 tablespoons apple cider vinegar
1 tablespoon lemon juice
1 teaspoon honey
Salt, pepper to taste
**I also add dried fruit: cranberries, currants, raisins
Clean and chop kale and put in salad bowl. Toss with nuts and cheese.
Whisk together oil, vinegar, lemon juice, honey and salt, and thoroughly toss with salad. Let sit for about 20-40 minutes before serving.